10 Must Visit Waterfalls In Uganda
Many people have known Uganda due to the reign of Idi Amin. But besides this dark past, many people have also come to know Uganda for its stunning natural beauty, including several magnificent waterfalls. The country is simply gifted by nature.  Here are some notable waterfalls in Uganda:
Murchison Falls
Murchison Falls, located within Murchison Falls National Park in Uganda, is a breathtaking natural wonder that showcases the immense power and beauty of the Nile River. As the Nile makes its way through a narrow gorge, it creates a spectacular waterfall, plunging down with incredible force and forming Murchison Falls.
The thunderous roar of the cascading water, combined with the mist that fills the air, creates an awe-inspiring sight that leaves visitors in awe. The surrounding landscape, characterized by rugged cliffs and abundant wildlife, adds to the allure of Murchison Falls, making it a must-visit destination for nature lovers and adventure enthusiasts alike.
Sipi Falls
Sipi Falls is a captivating series of waterfalls nestled in the foothills of Mount Elgon in eastern Uganda. This natural wonder comprises three stunning waterfalls, each with its own unique charm and character. As water cascades down the rugged cliffs, surrounded by lush greenery and fertile farmlands, Sipi Falls creates a picturesque scene that is nothing short of mesmerizing.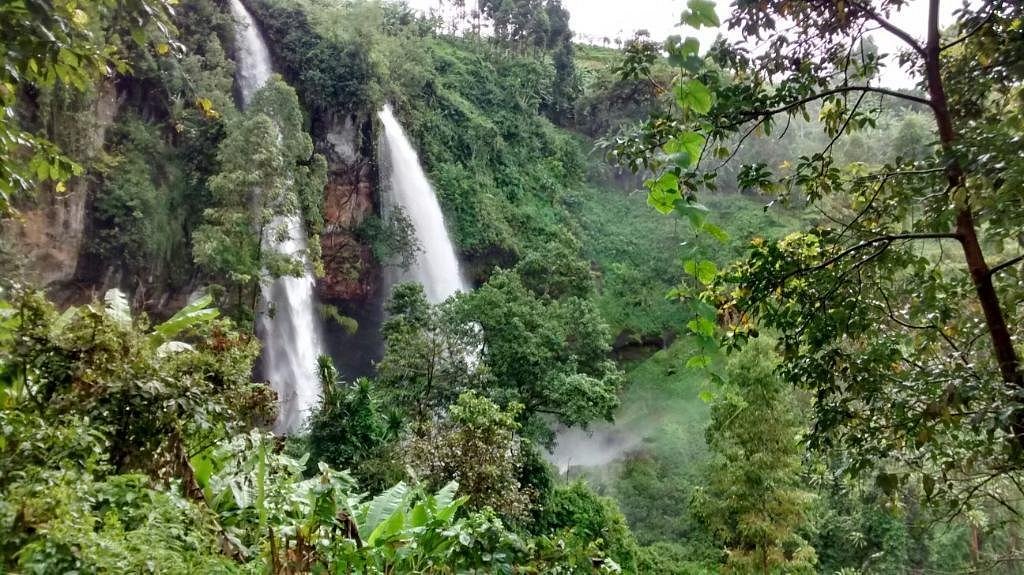 The tallest of the three falls, known as the Main Sipi Falls, drops from a considerable height, creating a majestic spectacle. Visitors to Sipi Falls can indulge in activities like hiking, trekking, and birdwatching while immersing themselves in the tranquil beauty of the surrounding landscapes. Sipi Falls is truly a haven for nature enthusiasts, offering a serene and enchanting experience that is sure to leave a lasting impression.
Ssezibwa Falls
Ssezibwa Falls is a spiritual and cultural site located about 32 kilometers east of Kampala. The falls are formed by the Ssezibwa River and are surrounded by lush forests and scenic landscapes. The local Baganda people consider the falls sacred and believe in their healing powers.
Aruu Falls
Aruu Falls is a captivating waterfall located in the northern part of Uganda, near the town of Pader. It is nestled within the scenic landscapes of the Acholi region, surrounded by lush greenery and rolling hills.
Aruu Falls is known for its impressive cascade as the water plunges down a series of rocky steps, creating a mesmerizing display of power and beauty. The falls provide a tranquil atmosphere, offering visitors a chance to unwind and connect with nature.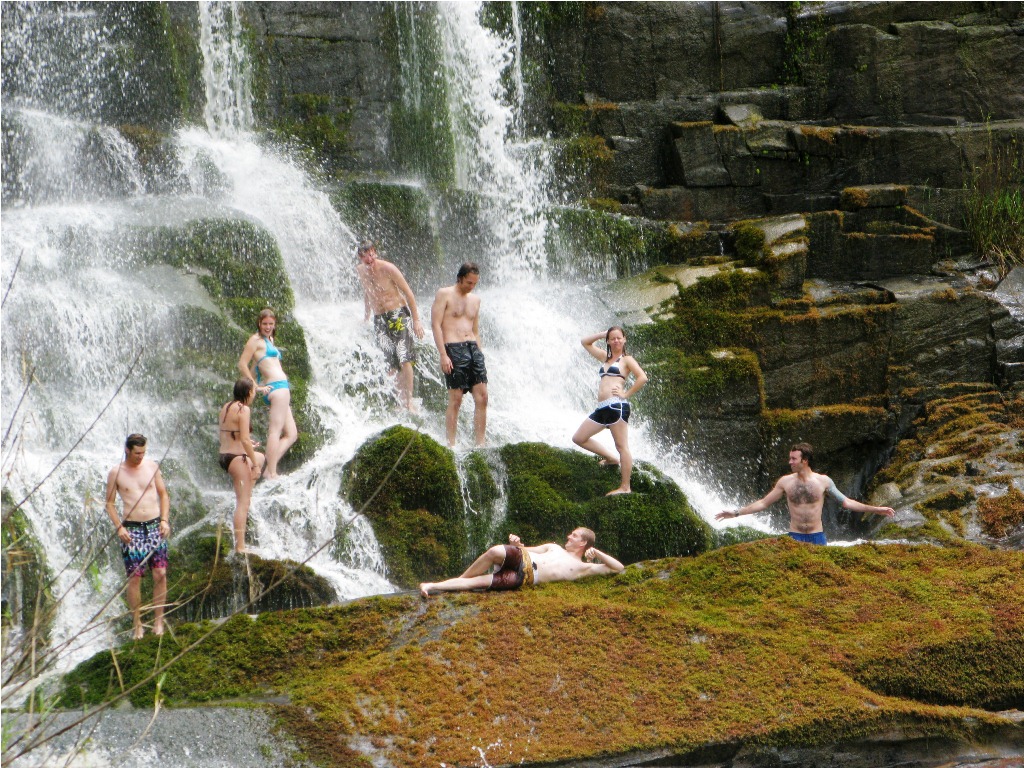 With its natural splendor and peaceful surroundings, Aruu Falls is a hidden gem that promises a refreshing and serene experience for those who venture to explore it.
Itanda Falls
Itanda Falls, also known as the "Staircase of the Nile," is an impressive waterfall located on the Nile River near Jinja, Uganda. As the river rushes through a series of rocky steps and rapids, it forms Itanda Falls, creating a breathtaking display of power and natural beauty.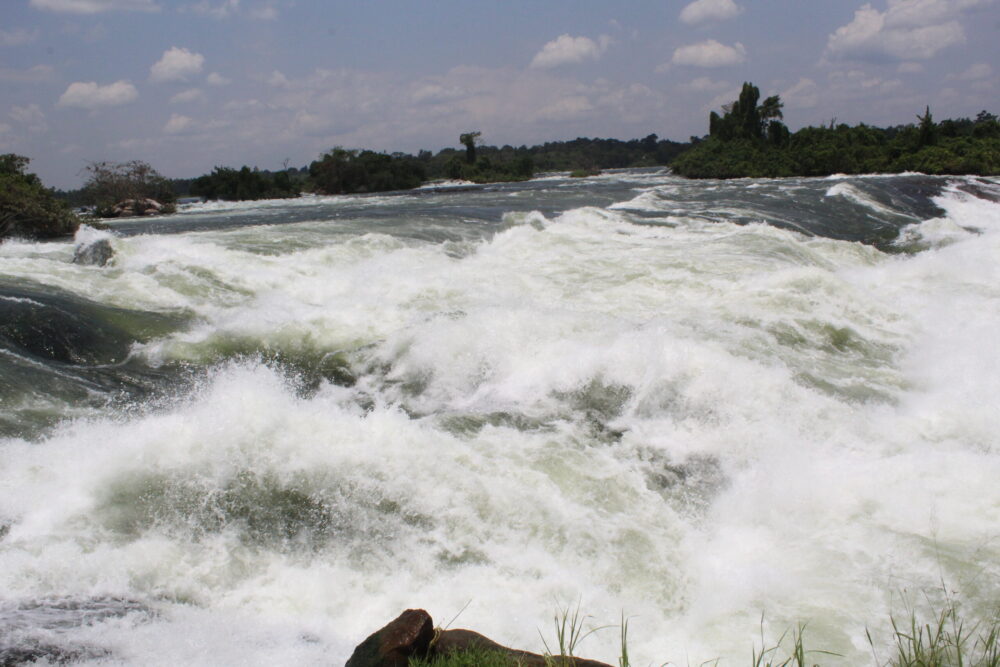 The cascading water creates a dramatic scene, surrounded by lush vegetation and towering cliffs. Itanda Falls has gained popularity among adrenaline seekers as a premier whitewater rafting and kayaking destination, offering thrilling and challenging rapids. Beyond its adventure sports appeal, Itanda Falls is also a picturesque spot where visitors can appreciate the raw force of nature and soak in the stunning surroundings.
Busowoko Waterfalls
Busowoko waterfalls are also located near Jinja. These waterfalls are popularly known for white water rafting. Before reaching Itanda Falls during your white water rafting in Jinja, you will have to first cross Busowoko waterfalls.
These waterfalls are also a ritual site for the Busoga Kingdom. A number of cultural or traditional ordination, as well as initiation ceremonies, are carried out from this place. It is one of the most stunning waterfalls in Eastern Uganda.
Sisiyi Water Falls
Sisiyi Waterfalls is found in Bulambuli eastern Uganda. Located on the slopes of Mountain Elgon, the waterfalls offer a great opportunity for hiking as well as picnicking. There is a lodge and campsite near the waterfalls making it very possible to spend a few days simply relaxing around the waterfalls.
However, the road that is connected to Sisiyi Falls is not well paved. It is for this reason that most people still prefer visiting Sipi Falls instead of Sisiyi Waterfalls.
Bulambuli Waterfalls
There are four major waterfalls found in Bulambuli, These include; the Gibanyi waterfalls, Golobetei waterfalls, Nakifumbuko waterfalls, and Gibuzare waterfalls.
Gibuzare waterfalls are the most stunning of these four Bulambuli waterfalls. It is commonly mistaken for Sipi Falls. There is a trail to these waterfalls; you ought to pass through people's gardens to get to the bottom of the waterfalls but the experience is worthwhile. 
Amabere Ga Nyina Mwiru Falls
Located near Fort Portal in western Uganda, is a captivating waterfall that holds cultural and mythological significance. Translated as "Breasts of Nyina Mwiru" in the local language, the falls are surrounded by a cave system with stalactite formations resembling hanging breasts.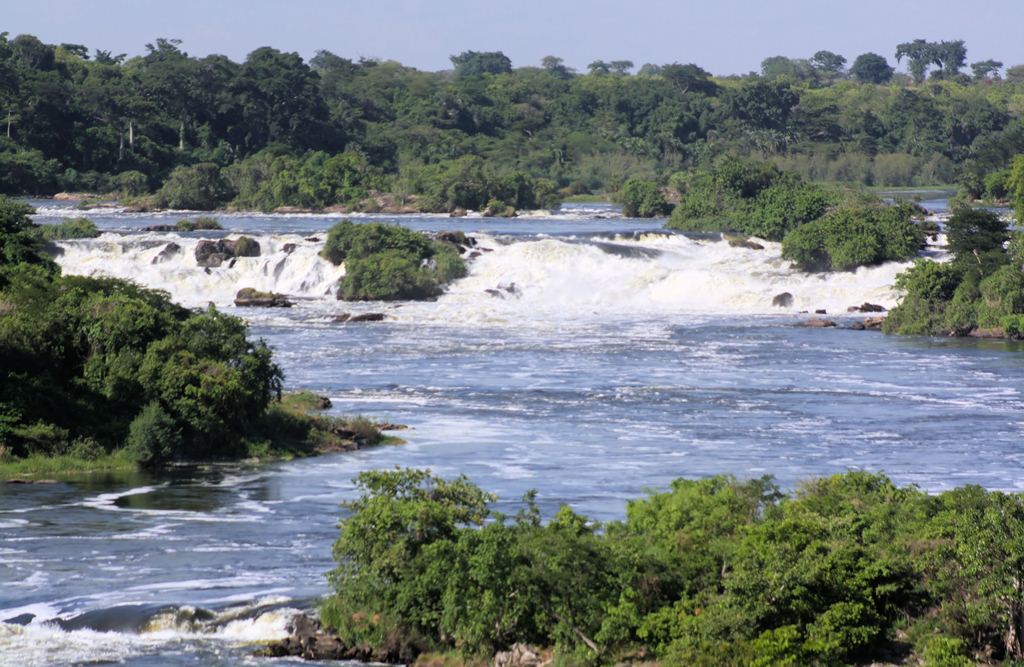 According to local folklore, these formations are believed to be the breasts of Nyina Mwiru, a legendary princess who faced various trials and transformed into stone, giving birth to the cascading water. The falls and the caves are considered cultural and historical sites, offering a unique blend of natural beauty and traditional tales.
Visitors can explore the caves, marvel at the unique geological formations, and learn about the rich cultural heritage and legends associated with Amabere Ga Nyina Mwiru Falls.
Karuma Falls
Karuma Falls is a majestic waterfall located along the Nile River in Uganda, approximately 225 kilometers north of Kampala. The falls are a remarkable natural spectacle as the mighty Nile River cascades through a series of rapids and plunges down the rocky terrain, creating a breathtaking display of power and beauty.
The thunderous sound of the water, combined with the mist that fills the air, adds to the dramatic atmosphere of Karuma Falls. The surrounding landscape is characterized by towering cliffs and lush greenery, offering a picturesque backdrop to this natural wonder.
Karuma Falls is not only a visual treat but also an important hydroelectric power generation site, contributing to Uganda's energy needs. Whether admired from a distance or experienced up close, Karuma Falls leaves visitors awe-struck with its sheer grandeur and the raw force of nature on display